Are you looking for a way to get up close and personal with your feathered friends? That's what bird box cameras are good for. They are placed inside or outside bird boxes to let you observe the comings and goings of your avian neighbors from the comfort of your own home. This way, you can see how the birds build their nests, lay their eggs, and care for their young without disturbing them or their environment. So, these cameras can be a great educational tool for children, helping instill love and appreciation for nature. So, without further ado, let's take a look at some of the best bird box cameras on the market today. Whether you're a seasoned bird watcher or just getting started, there's sure to be a camera on this list.
Our pick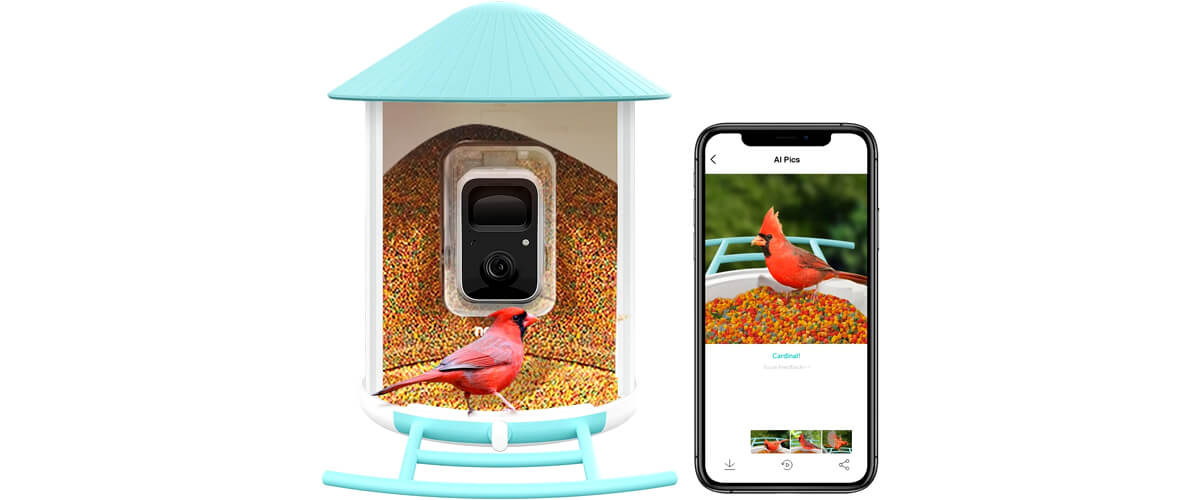 NETVUE Birdfy Feeder AI
Best bird box camera
The NETVUE Birdfy Feeder AI is a bird feeder plus camera which detects and records birds' moments for you. Upgrade your bird feeding and watching to a new level!
Read the full review
.
Bird box cameras comparison table
Name
Video capture resolution
Connectivity
Power
Review
NETVUE Birdfy Feeder AI

best overall

1920×1080, 25fps
USB-C, Wi-Fi (2.4G)
battery (5200mAh)
Review
Birdkiss Smart Bird Feeder

solar powered

1920×1080, 25fps
Wi-Fi (2.4G)
solar battery
Review
Birdhouse Spy Cam Hawk Eye
720×480, 25fps
RCA
AC/DC, battery adapter (9V)
Review
Blink Outdoor 3rd Gen
1920×1080, 30fps
Wi-Fi (2.4G)
2 AA batteries
Review
How to choose the best birdhouse camera?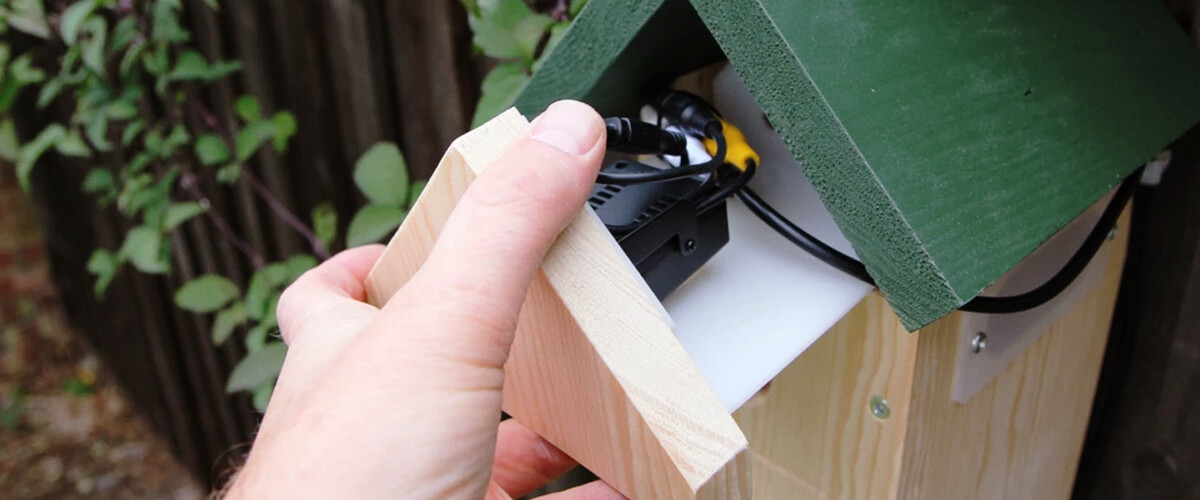 Image quality
Usually, you may avoid the need to install a 4K resolution camera in a birdhouse. Even though this resolution may be beneficial because it results in a crisp and clear image, this is not a necessary parameter for this use. A resolution of at least 720p will be more than enough for general monitoring and observation purposes. If you want to use cameras for bird boxes for research purposes and need to have a higher level of detail, look at cams with 1080p and higher.
Night vision
Since many birds are active at night or dawn, you've got to make sure you will have the option to observe what's going on in their nest at a low light intensity. Not all cameras have a night vision feature, so double-check whether the device you settled upon has this option. You will most likely encounter infrared (IR) night vision technology, providing a monochrome image of the apparently dark scenes to a human observer. However, it's worth noticing that the red glowing IR light may be disturbing to birds, so you've got to opt for a camera with a low-glow or no-glow IR option.
Audio
How deeply would you like to study the world of birds? If you want to study bird behavior, identify different bird species, and simply enjoy the sounds of nature, you've got to look at the bird box cameras with a microphone. There are devices with built-in micros on the market, as well as ones that allow you to hook up an external microphone.
The option of a built-in microphone seems to be more convenient, but it doesn't always result in good audio quality—it may sound far off and unclear. So, to grasp every single noise, you may want to use an external microphone or a separate audio recorder.
Motion detection
Motion detection can be a great way to save space on the memory card and stay in the loop of important moments that are interesting for observation. With this feature, the camera will only record the video when it detects the change in the image. So, the camera will start recording once there is some movement inside and will stop the video when no actions are detected. This will allow you to capture specific moments like chick feeding or nest building.
Best bird box cameras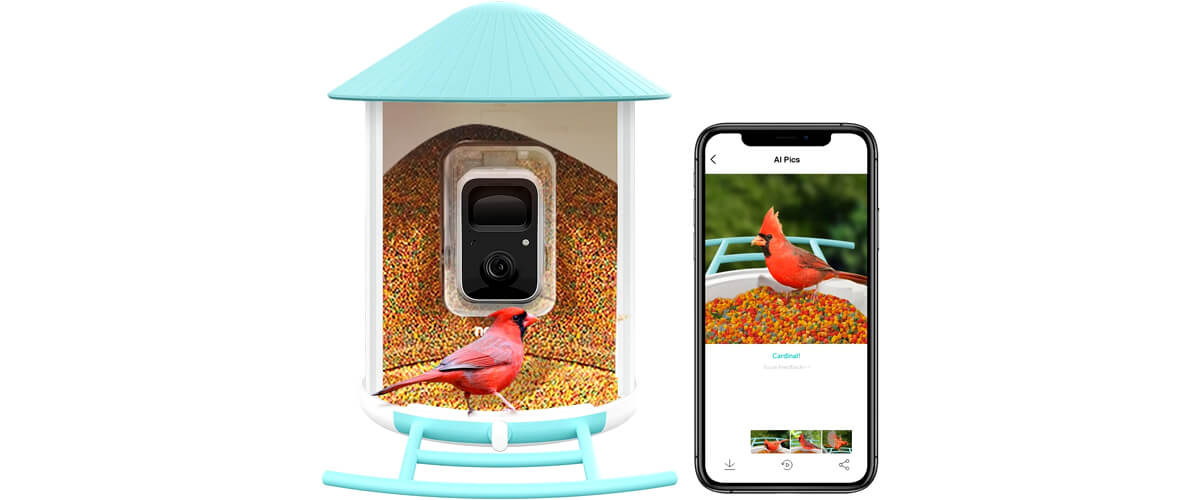 Meet your feathered friends with treats and observe how they behave with the NETVUE Birdfy Feeder AI. This is a feeder and a camera in one pack that captures images and videos in 1920x1080p resolution.
Of course, it is not like a security camera, and it's designed to capture close-up images. The image becomes a bit distorted, but that can't be avoided. The camera captures 10-second clips when motion is detected. The playback is smooth and clear. Audio recording is also available, so you will enjoy bird chattering. Thanks to the color night vision, you will see birds clearly day and night.
An example of NETVUE Birdfy Feeder AI image quality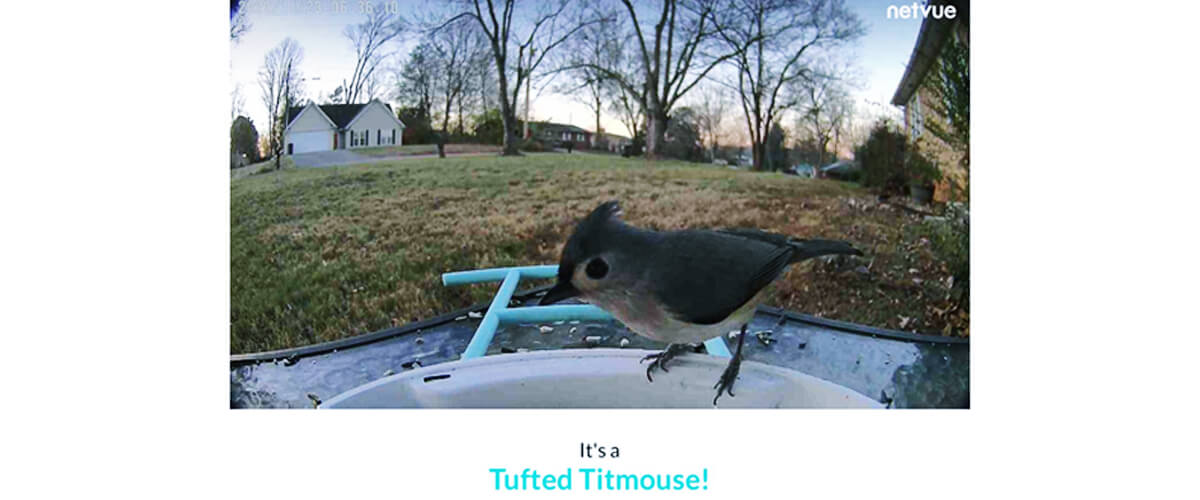 The design is squirrel-proof, and you can drive away smaller mammals by flashlight, siren, or just saying "Go away" through the microphone. By the way, this is very important because small animals often cause such devices' breakdown.
Similarly to Birdkiss Smart Bird Feeder (my next item on the list), this device has AI technology that detects different species of birds. There is also a user-friendly app with plenty of functionality. For instance, you can get notifications when the bird comes, share videos directly to your social media profiles, save birds collection, and more.
If you like to watch birds, NETVUE Birdfy Feeder AI can become your optimal choice. With a decent close-up image quality, motion detection and AI, color night vision, and other capabilities, this is, in my opinion, the best birdhouse camera.
Key specs
Video capture resolution: 1920×1080, 25fps.
Bird food capacity, l/oz: 1.5/50 oz.
Connectivity: USB-C, Wi-Fi (2.4G).
Power: battery (5200mAh).
Pros
Quality close-up images in high resolution.
Video recording triggered by motion to save storage space.
AI to identify 6,000 bird species.
A user-friendly app with tons of functionality.
Cons
The image may get distorted.
Birdkiss Smart Bird Feeder – solar powered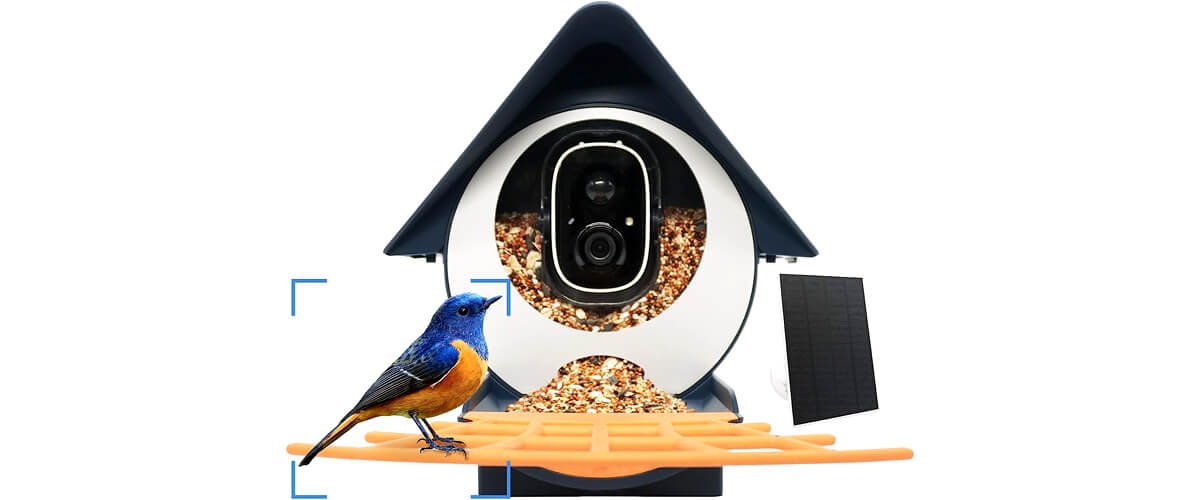 The Birdkiss Smart Bird Feeder will give you a splendid opportunity to observe birds as they come to get a bite. The AI bird identification technology will recognize around 11,000 species of birds and let you monitor them in real-time via an app (which is free for 30 days). In addition, you will get a notification when the bird arrives, so you do not miss a thing.
What else interesting does this model offer? With the motion detection technology, the camera storage won't be overloaded. The supported image/video resolution is 1920×1080, which is more than enough to let you enjoy the beauty of nature. This wireless bird box camera with night vision (infrared LED light) is compatible with 2.4Hz Wi-Fi.
An example of Birdkiss Smart Bird Feeder image quality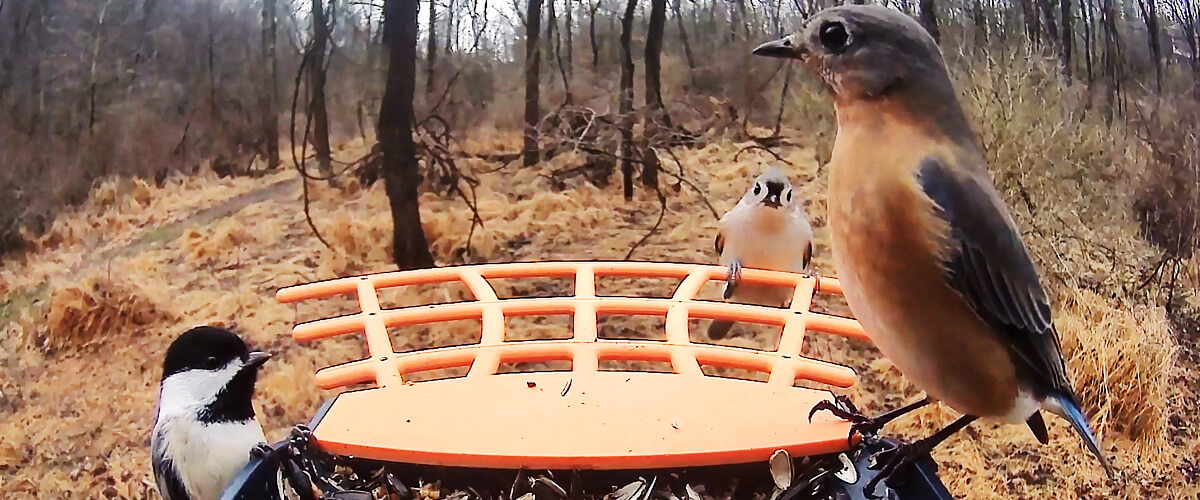 Identically to NETVUE Birdfy Feeder AI, this feeder is also battery-powered. However, this model has a solar battery option by default, while its rival provides this capacity optionally at an additional cost. This will reduce the need to daily recharge the battery. While I appreciate this option, I don't understand why the charging cable and the solar panel cord do not match any of the slots.
All in all, the Birdkiss Smart Bird Feeder is a great solar powered wireless birdhouse camera that will let you easily view and share videos about birds with your friends. This is a sort of device that doesn't require frequent recharging, so it will require minimal maintenance efforts from your side.
Key specs
Video capture resolution: 1920×1080, 25fps.
Connectivity: Wi-Fi (2.4G).
Power: solar battery.
Pros
Included solar battery for hassle-free charging.
Real-time bird monitoring and instant notifications.
1920x1080p videos and decent close-up images.
AI bird detection with the collection of 11,000 species.
Cons
AI functionality is free for 30 days.
Birdhouse Spy Cam Hawk Eye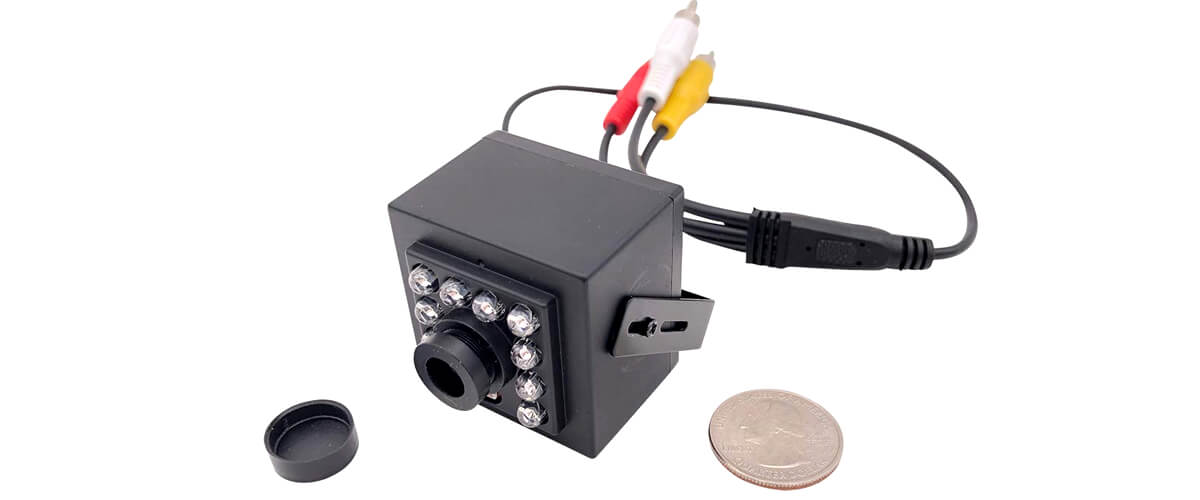 If a simple camera setup makes the best nest box camera for you, look at Birdhouse Spy Cam Hawk Eye. This is a pretty basic camera that will let you observe birds in their natural habitat.
Two camera options define the recorded video quality: original and HD. HD has 700 tvl (television lines) vs. 380 tvl, resulting in a sharper image. However, I have noticed that the birdhouse size affects the final image quality- the more spacious it is, the better the image is. So be sure to consider this aspect when installing this camera.
An example of Birdhouse Spy Cam Hawk Eye image quality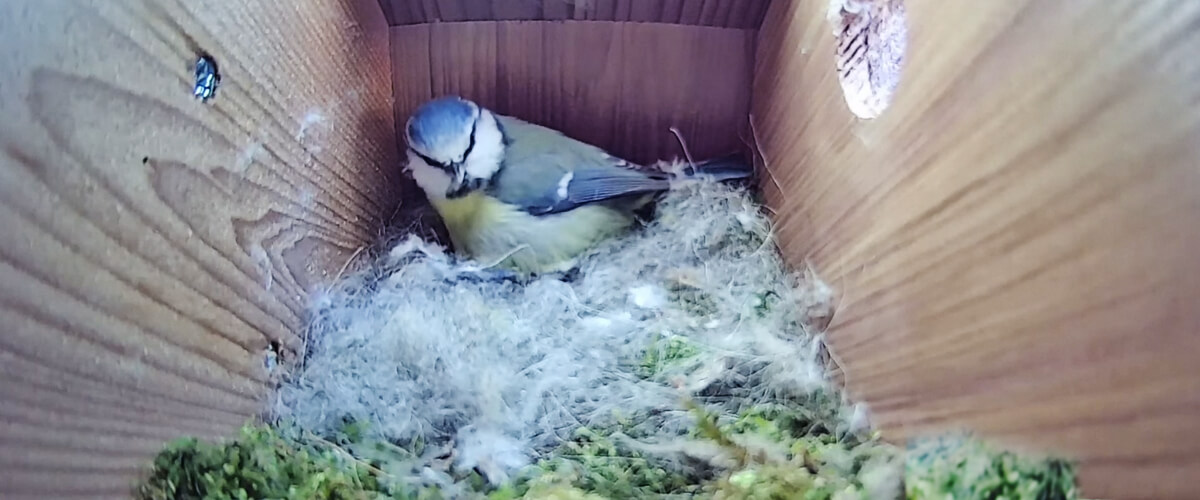 It does well in the dark, though there are 10 infrared diodes for night vision. The built-in microphone is fine, but it's not stereo audio. Mind that the camera has a focus-lock screw on the lens, which you should adjust manually. This way, you need to lock it in before installing the camera.
Unlike the wireless Blink Outdoor 3rd Gen camera, this one requires a cord to operate. A small cord is included, which you can attach to the 100-foot cord (sold separately) to deal with outdoor connection. The output option is an old-fashioned RCA yellow video connector with one white audio connector, so it can be easily hooked to a TV. No dedicated app is available.
The Birdhouse Spy Cam Hawk Eye camera will be more than enough to satisfy your desire to get familiar with the bird's lifestyle. It has a basic set of features that will let you monitor what is happening in the birdhouse on your TV or another connected device.
Key specs
Video capture resolution: 720×480, 25fps.
Connectivity: RCA.
Power: AC/DC, battery adapter (9V).
Pros
Night vision functionality to let you see at night.
Built-in microphone to provide video with an audio track.
Easy to use and install.
Cons
May deliver a blurred image with a lot of noise when placed in a small dark birdhouse.
A corded design with an old-fashioned RCA connector.
Blink Outdoor 3rd Gen
Whether you place it inside or outside the birdhouse, the Blink Outdoor 3rd Gen camera will stand it all. It gets the upper hand over Birdhouse Spy Cam Hawk Eye in terms of weather resistance. Also, it's a wireless device that can go where wires won't reach. It is equipped with two powerful AA lithium batteries that eliminate the need for frequent replacement.
As Blink Outdoor 3rd Gen is a bird box camera with motion detection and color night vision, you can track what is happening in the bird box once the bird arrives, even at night. As you customize the settings, you can be notified only of the movement you care about. But this option, as well as cloud storage, requires a subscription. Without it, you don't get remote access to recorded videos. There is two-way audio to ensure you can enjoy birds chattering or use a built-in mic to scare unwanted guests like squirrels.
An example of Blink Outdoor 3rd Gen image quality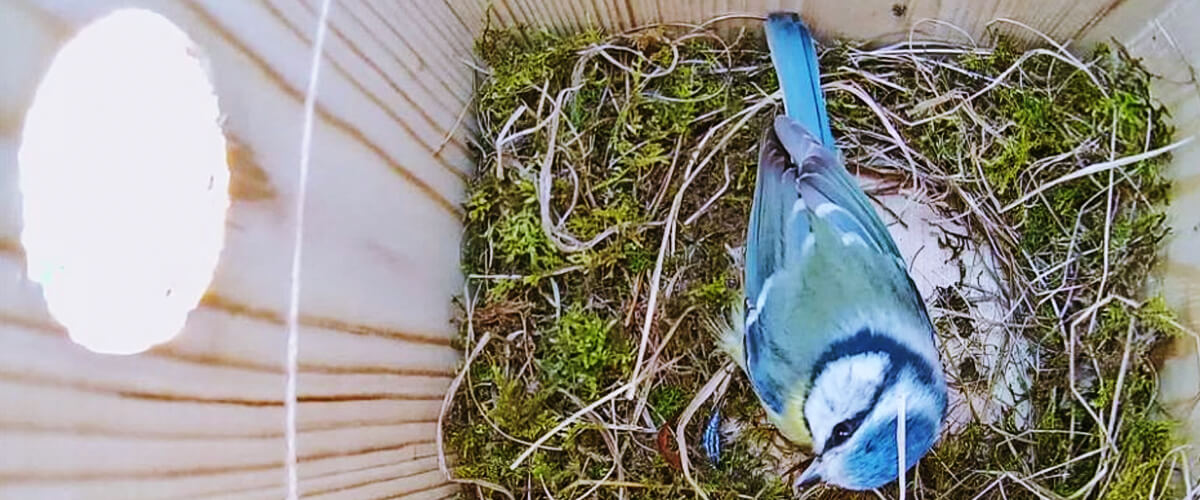 It records video in 1080p resolution and supports live video streaming via an app. Blink Outdoor is also compatible with Alexa voice assistant for hands-free camera management.
To sum it up, Blink Outdoor 3rd Gen is a good choice for bird monitoring. It records clear and sharp images, day or night. And when you go with a subscription, you unlock a lot of useful functionality to make the observation process more enjoyable.
Key specs
Video capture resolution: 1920×1080, 30fps.
Field of view: 110°.
Connectivity: Wi-Fi (2.4G).
Power: 2 AA batteries.
Pros
Has great weather-resistant properties.
A wireless camera that operates on two AA lithium batteries.
Motion detection and color night vision for capturing the right moments at any time.
Supported with Alexa voice assistant.
Cons
Requires a subscription to unlock necessary functionality.
FAQ
What are the benefits of using a bird box camera for bird watching?
There are so many benefits to using a bird box camera for bird watching. You can learn about birds, their behavior, habits, and daily routines, all without leaving your house. But perhaps the finest thing about using a bird box camera for bird watching is that it allows you to observe the birds without disturbing them. Also, this can be an entertainment factor as you will be able to witness how birds build their nests, lay their eggs, and raise their chicks.
What types of birds can be observed with a bird box camera?
You can equip a birdhouse with camera to observe a wide variety of bird species. Of course, this will depend on the type of birdhouse and your location, but usually, these are owls, swallows, chickadees, bluebirds, woodpeckers, and more.
How to maintain a bird box camera and ensure it lasts a long time?
To maintain a bird box camera and ensure it serves for years to come, clean it regularly to prevent the buildup of dirt, debris, or bird droppings. If spiders tend to build webbing around the camera or there are a lot of bugs hovering around it at night, you may want to
use a repellent or take other actions
. Keep the camera lens clean, too. For this, use a soft, dry cloth. Also, keep an eye on the camera storage capacity, firmware, cables, and connectors.
Can bird box cameras be used to monitor other types of wildlife?
Generally speaking, yes. But this depends on the camera placement and the animal species you want to observe. Usually, bird box cameras are used to monitor small mammals like squirrels and chipmunks that may use the birdhouse as their nest. In other cases, you may consider other cameras with better zoom and weather resistance capabilities.
How long does the battery life of a bird box camera typically last?
Roughly, wireless bird box cameras last for around 20 hours on a single charge. But there are so many factors to consider. The camera's battery capacity, weather conditions, and frequency of use are the things that may shorten or extend the battery cycle duration.