Are you searching for the best auto tracking security camera that will restlessly keep an eye on your property? Then, you've come to the right place. In this review, I will take a look at some of the most remarkable auto-tracking security cameras on the market.
These cameras will give you peace of mind as they automatically detect and track any motion within their scope. This way, they provide added security and protection.
So, let's dive in.
Our pick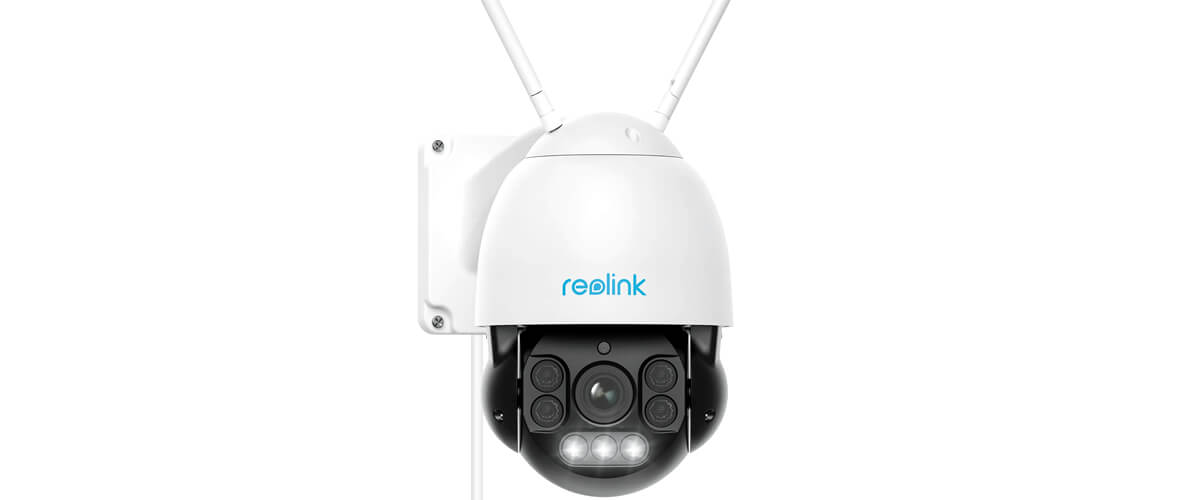 REOLINK RLC-523WA
Best motion tracking security camera
REOLINK RLC-523WA, with the on-camera technology of analyzing person and vehicle shapes, offers accurate detections and thus greatly reduces the false alarms on trivial objects' movements.
Read the full review
.
Motion tracking security cameras comparison table
Name
Video capture resolution
Pan
Tilt, up/down
Zoom, optical/digital
Review
REOLINK RLC-523WA

best overall

2560×1920, 20fps
360°
45°/45°
5x/-
Review
Amcrest IP4M-1063EW-AI

for professionals

2688×1536, 25fps
60°
30°/30°
25x/16x
Review
SV3C C15

budget

2560×1440, 20fps
360°
45°/45°
5x hybrid
Review
What to look for in the best auto tracking security camera?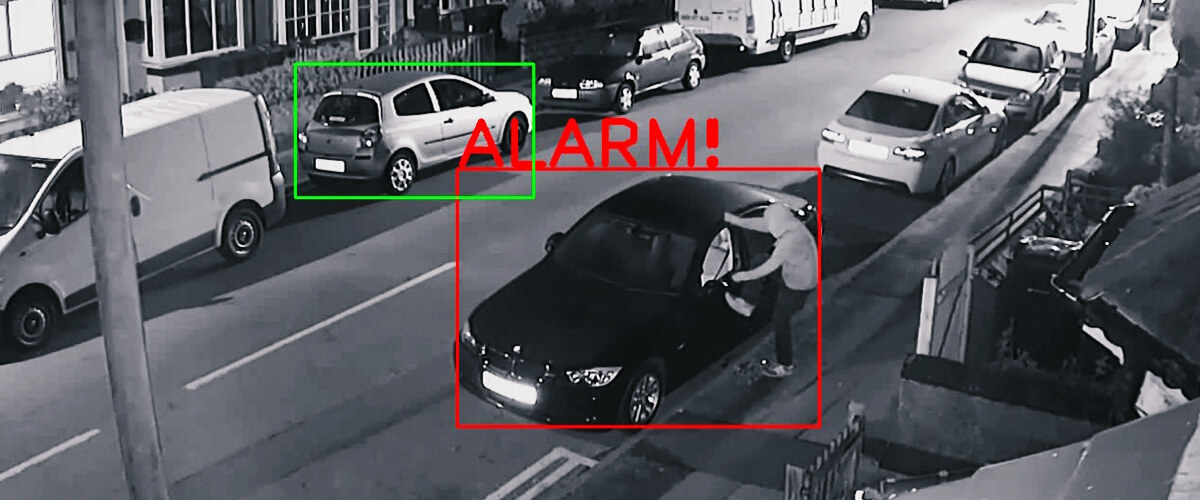 Tracking capabilities
In order to be able to automatically track and record any suspicious activity within the field of view, cameras should have the following characteristics:
Object detection – it is preferable that the camera detects an object and differentiates what type of object triggers it. For instance, it should be able to distinguish the difference between people, animals, vehicles, etc.
Motion tracking – this refers to the camera's ability to follow the spotted object within its field of view.
Intelligent algorithms – you can come across cams that can take into account different criteria when detecting objects, like the speed and direction to predict where the person is heading.
Sensitivity – it is desirable to have a camera with customized sensitivity settings. Otherwise, the too-sensitive camera can trigger false notifications. And, the other way round – the cam won't capture suspicious motions.
Customization – you will be as protected and confident as possible with the camera that allows you to customize its settings according to your needs.
Video quality
Another important consideration when choosing a camera is its video quality capabilities. I recommend having a camera with a video resolution of at least 1080p (Full HD). The higher resolution is, the more detailed and clear the recorded video will be.
Also, check the camera's frame rate, which defines the number of frames per second (fps) the camera can capture. Usually, 30fps and 60fps are optimal choices to deliver smooth and fluid footage, even for fast-moving objects.
Night vision
For capturing clear video in low-light conditions or complete darkness, you may want to have night vision capability in the camera of your choice. But not all night vision features are the same.
There are devices with infrared (IR) sensors delivering black-and-white images and color vision technology. Also, mind the range night vision technology offers. Some cameras can capture the footage in around 20 to 30 feet, while others see as far as 100 feet or more.
Optical zoom
Optical zoom is indeed a handy feature in cameras with motion sensors that will let you zoom in on objects or people without sacrificing image quality. It is preferable to digital zoom, where the image is simply enlarged. This may lead to pixelization and distortion. Optical zoom physically adjusts the focal length of the camera lens to magnify an image, which results in a clean and detailed image.
When you buy a camera, consider the level of zoom the device offers. A higher zoom level is a preferred option for monitoring a specific area or object, while a lower zoom may be better for wider coverage.
Best motion tracking security camera reviews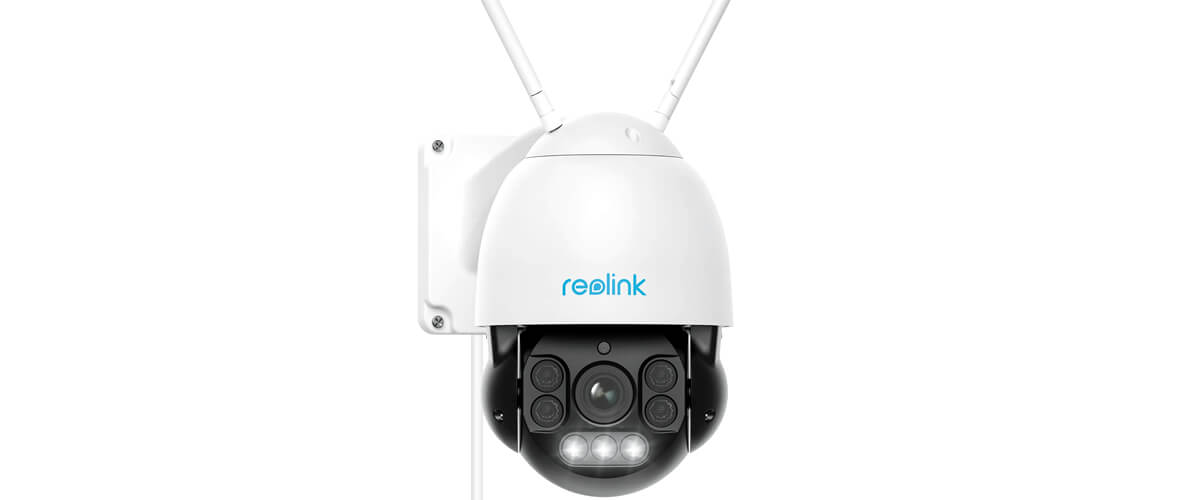 If you've been searching for a robust camera that covers basic needs, REOLINK RLC-523WA is your choice. This model boasts a new smart detection tech that analyzes person and vehicle shapes to ensure accurate detection and reduce false alerts. Also, the cam will follow the movement of an object once it is detected. And when an intruder is spotted, the double warning will be triggered: to notify you and scare off the unwanted guest. Because of the two-way audio, you will have a chance to interact with the guest in real time.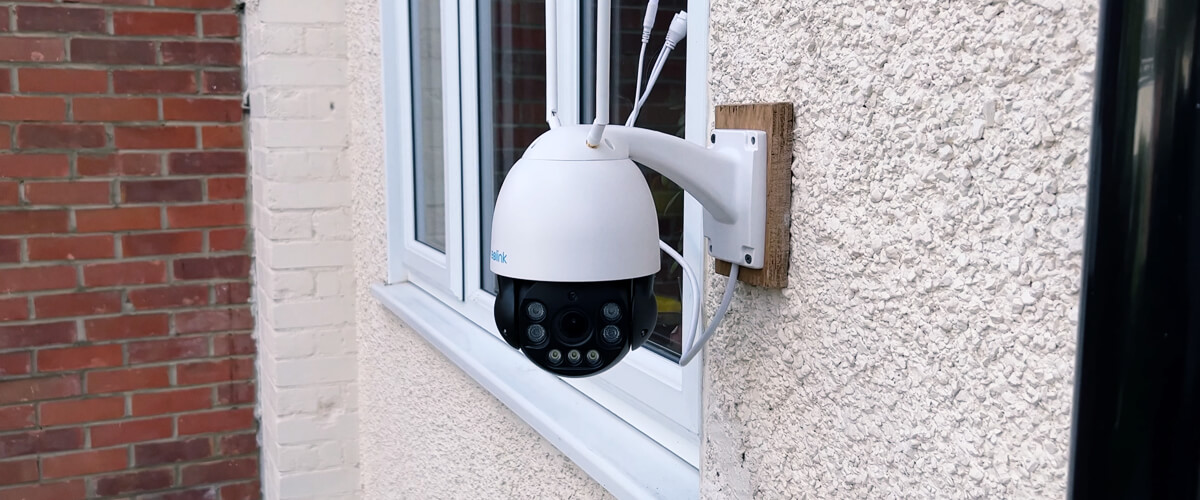 With 5MP (2592 x 1944 p) resolution, 5x optical zoom, and 360°pan & 90°tilt, you will be able to see everything in great detail with a whole view of a large area. Video resolution is where this REOLINK cam outperforms Amcrest IP4M-1063EW-AI with 4MP. Both IR and color night vision options are available.
An example of REOLINK RLC-523WA image quality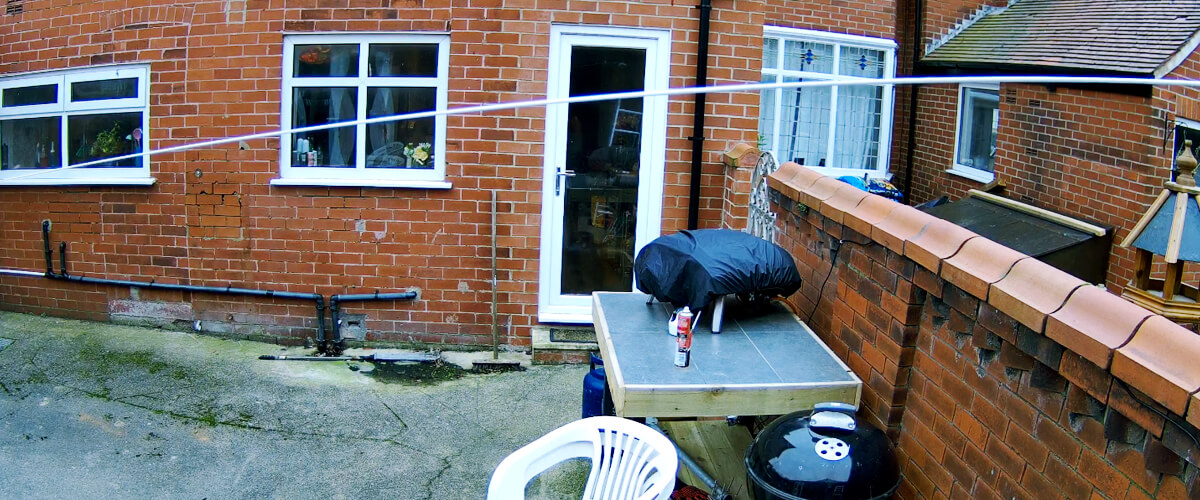 The camera supports 2.4 and 5Ghz Wi-Fi, so you can get a stable connection, though the setup is intricate.
All in all, REOLINK RLC-523WA is the best outdoor auto tracking security camera offering everything you may need to keep your property supervised. It is a well-balanced product that will satisfy the needs of most users.
Key specs
Video capture resolution: 2560×1920, 20fps.
Pan: 360°.
Tilt, up/down: 45°/45°.
Zoom, optical/digital: 5x/-.
Field of view, horizontal/vertical: 27-96°/21-69°.
Connectivity: Wi-Fi, PoE, DC IN.
Pros
5MP resolution, 5x optical zoom, and color night vision options to deliver clear image day or night.
Works with 2.4 and 5Ghz Wi-Fi networks for a stable connection.
Smart object detection technology to prevent false alerts.
Double alert system and two-way mic.
Cons
Not the most convenient setup and connection to Wi-Fi.
Amcrest IP4M-1063EW-AI – for professionals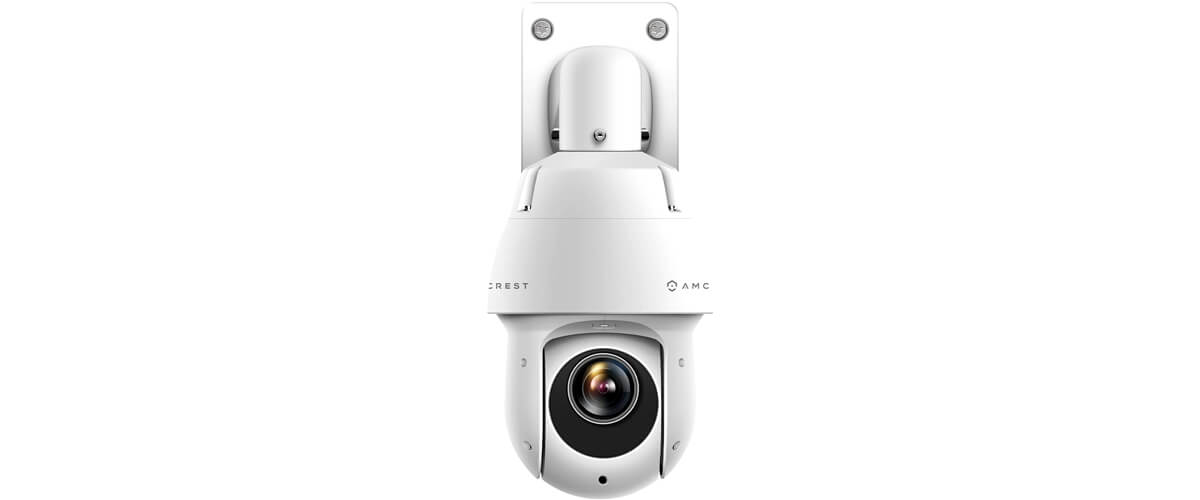 As a camera loaded with a range of advanced features to provide superior surveillance and security, Amcrest IP4M-1063EW-AI will make a good choice for every professional looking for a high-end device.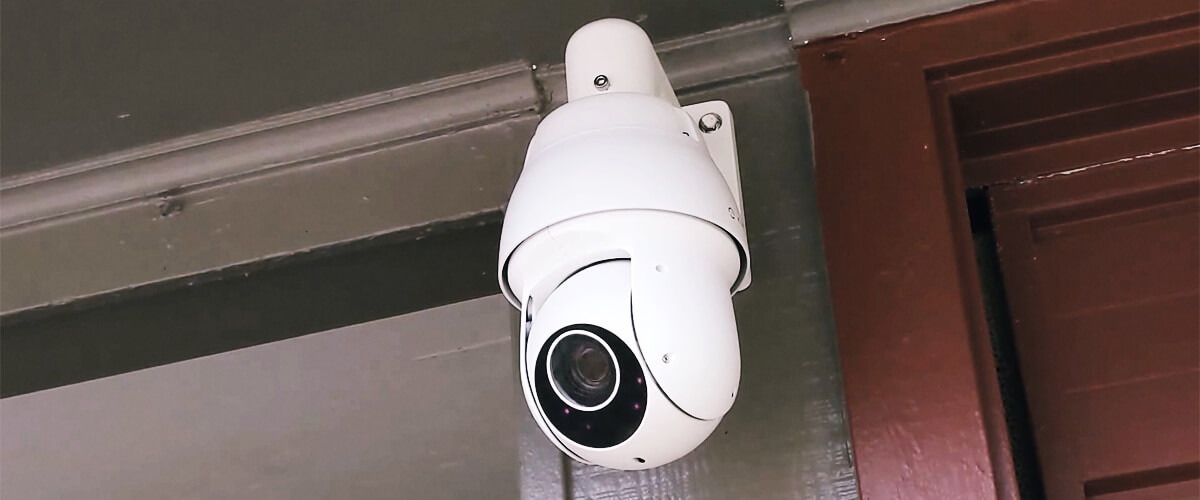 This model is equipped with a 1/2.8-inch CMOS sensor that captures 360° pan, 90° tilt, and 60° FOV in 4MP at 25fps. The optical zoom with 25x is a heavy hitter, which is even 5 times better than in REOLINK RLC-523WA. There is also a 16x digital zoom in this Amcrest cam. No color vision technology is available in this device, but 4 IR LEDs cast brightly at the 328 feet range.
An example of Amcrest IP4M-1063EW-AI image quality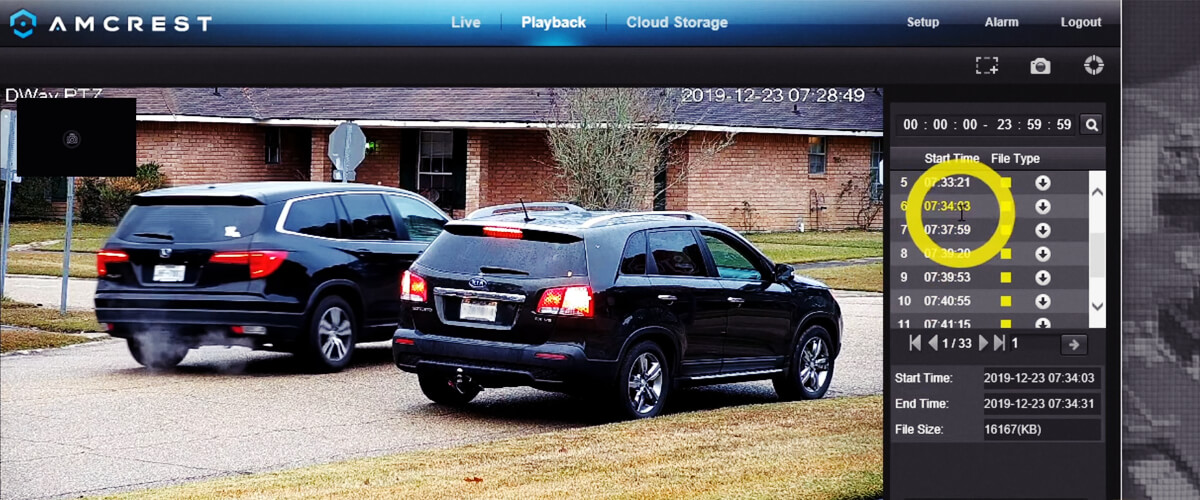 The IP4M-1063EW-AI model has face detection, IVS (abandoned object, missing object, tripwire, and intrusion), and smart motion detection (human and vehicle). The notifications will be sent to your smartphone via an app with alert details. Also, all the settings are highly customized, which allows you to control what you are monitoring, the level of sensitivity, and more. Total control, but in this case, that's exactly what we need!
Amcrest IP4M-1063EW-AI is undoubtedly the best motion tracking security camera that would appeal to people seeking advanced functionality and thorough customization.
Key specs
Video capture resolution: 2688×1536, 25fps.
Pan: 60°.
Tilt, up/down: 30°/30°.
Zoom, optical/digital: 25x/16x.
Connectivity: PoE.
Pros
4MP video at 25fps with 25x optical and 16x digital zoom.
A variety of smart motion detection and tracking technology, including face recognition.
Highly customizable to let you capture just what matters to you.
Cons
No color night vision available.
SV3C C15 – budget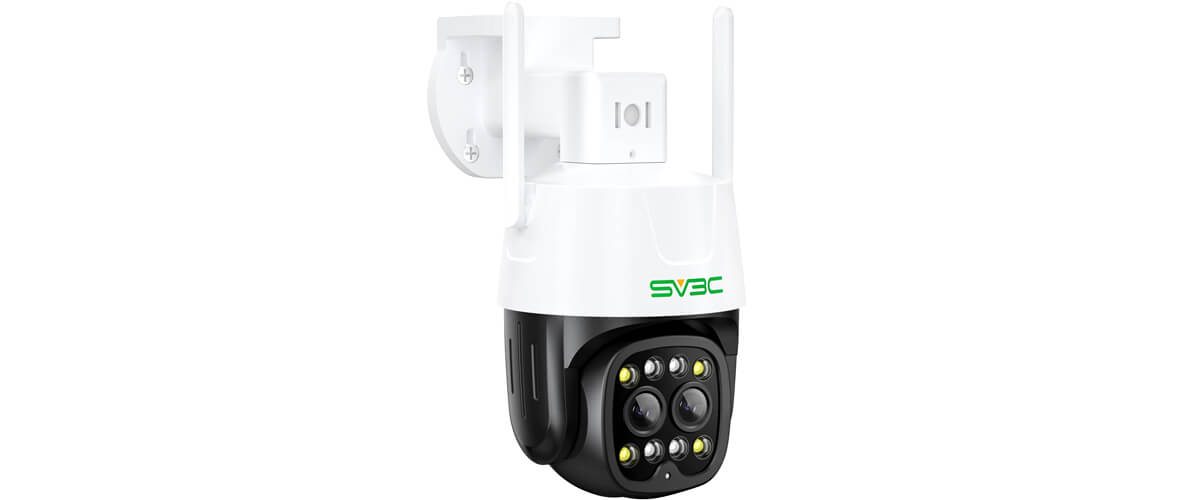 The SV3C C15 outdoor security camera brings a lot of value for the money. In some parameters, it is even similar to my leader (REOLINK RLC-523WA). The model has a basic set of necessary functions like color night vision, AI auto tracking, 2-way audio, and ultra-wide angle of coverage.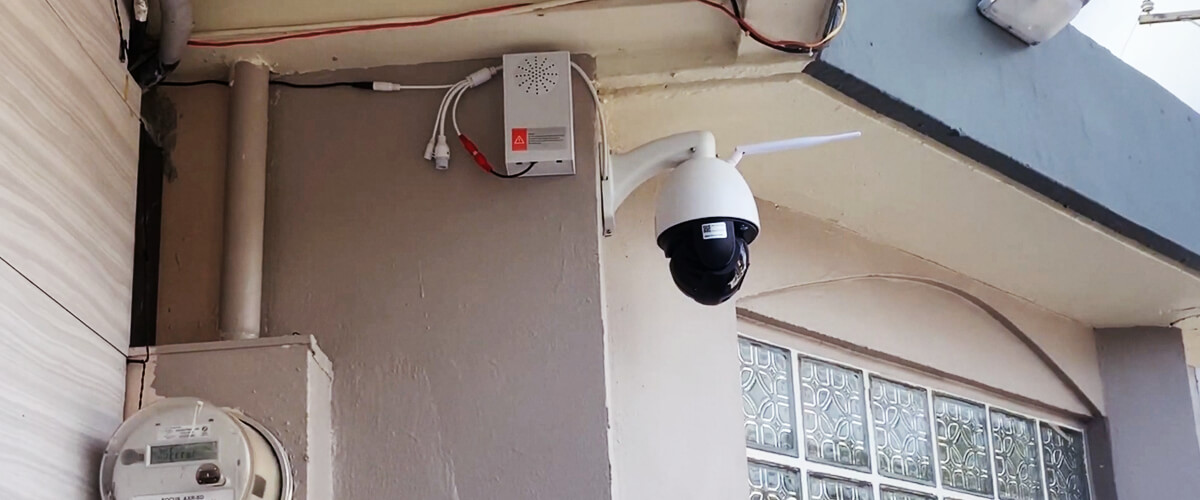 This is a dual-lens 4MP PTZ camera, which means it can offer great flexibility, image quality, and low-light performance. However, the SV3C's cam has a 5x hybrid zoom, which works better for zooming in on subjects that are farther away, but it can result in a loss of image quality, especially at higher zoom levels.
An example of SV3C C15 image quality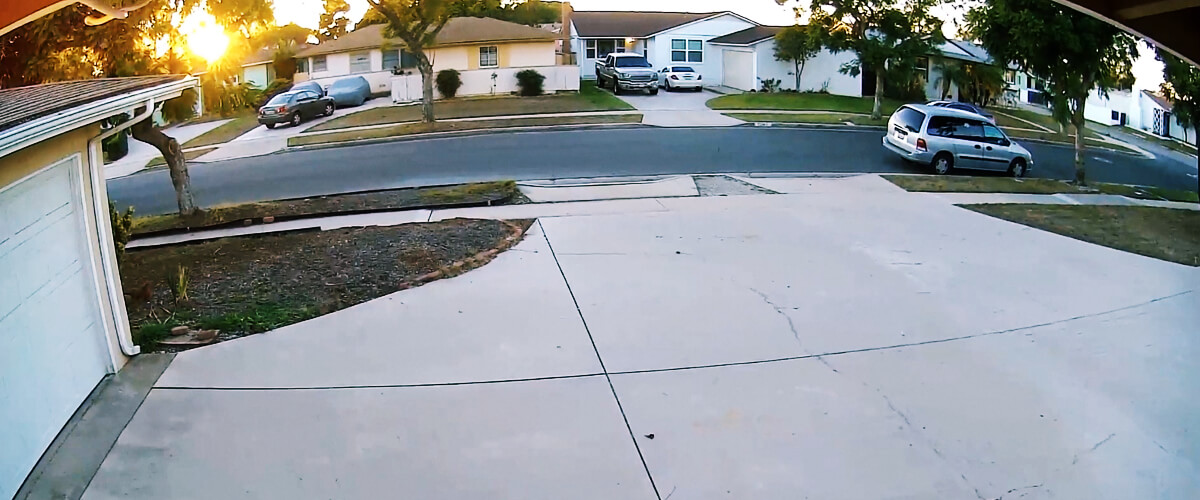 What is missing in SV3C C15 is the vehicle detection feature. Though, night footage looks good with this camera. I also like the audible alarm that can warn the stranger. If you customize the device, it will also turn on a fairly bright light when motion is triggered. You can also get a few images to your email when an alarm goes off.
This is the best automatic surveillance camera from the budget segment. SV3C C15 costs not so much but has the basic functionality to keep your property under supervision.
Key specs
Video capture resolution: 2560×1440, 20fps.
Pan: 360°.
Tilt, up/down: 45°/45°.
Zoom: 5x hybrid.
Field of view, horizontal/vertical: 60°/60°.
Connectivity: PoE, Wi-Fi (2.4G), DC IN.
Pros
Dual lens for increased flexibility, footage quality, and low-light performance.
Color night vision with good video quality.
2-way audio and smart alerts to scare away strangers.
Offers plenty of customization.
Cons
Limited in whom the camera can detect and track.
Hybrid zoom may result in the loss of quality at high zoom levels.
HXVIEW BU-E580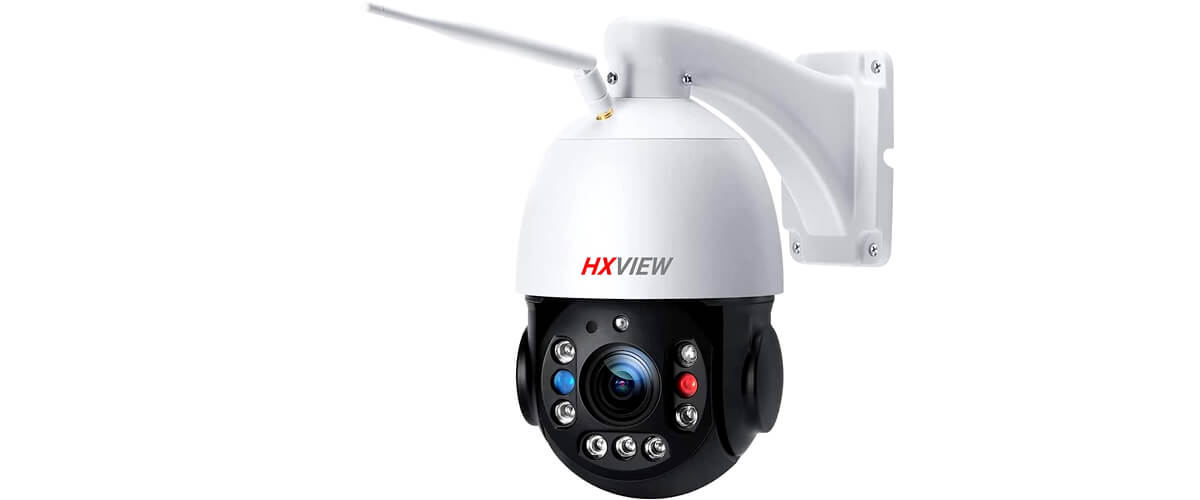 Here comes another great auto-tracking PTZ camera from the brand HXVIEW. The ​​BU-E580 cam has the most advanced zoom capabilities (30x optical zoom) from the list of products I reviewed. Similarly to REOLINK RLC-523WA, this device also has a 5MP video resolution with 2560×1920 pixels thanks to the CMOS sensor. Laser infrared light delivers 1000 ft night vision distance with neat color reproduction. Trust my experience – these are good indicators.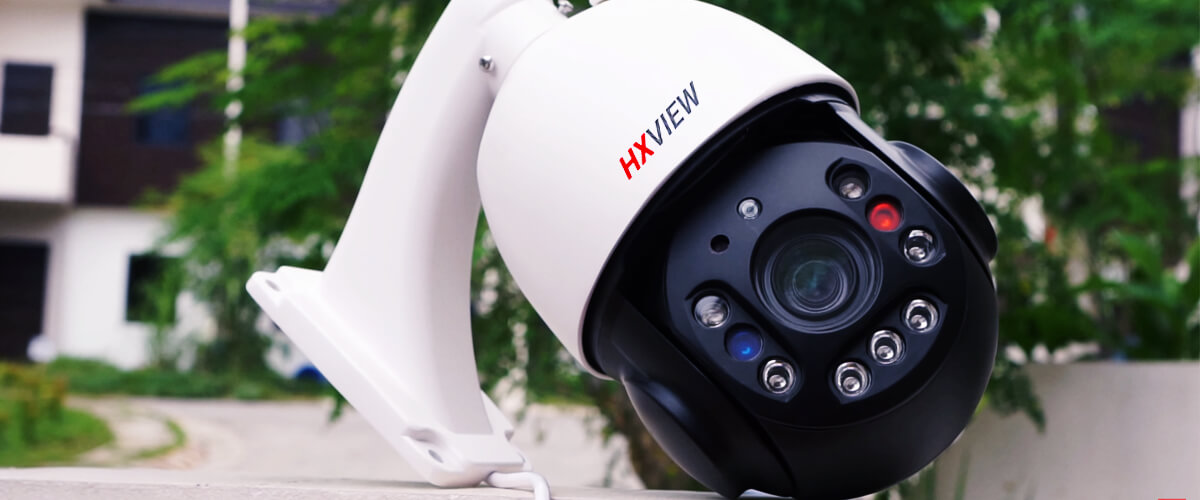 Like SV3C C15, the BU-E580 by HXVIEW has human detection and tracking capabilities, so it won't be able to spot vehicles or other objects. However, as you adjust sensitivity, you can significantly reduce the number of false alerts. Once the camera captures a person entering the video area, you will get a real-time video sent to your phone. Although, I have noticed that the alert system sometimes has trouble sending alerts to Google email. Also, light and sound alarms are available in this camera to warn the intruder.
An example of HXVIEW BU-E580 image quality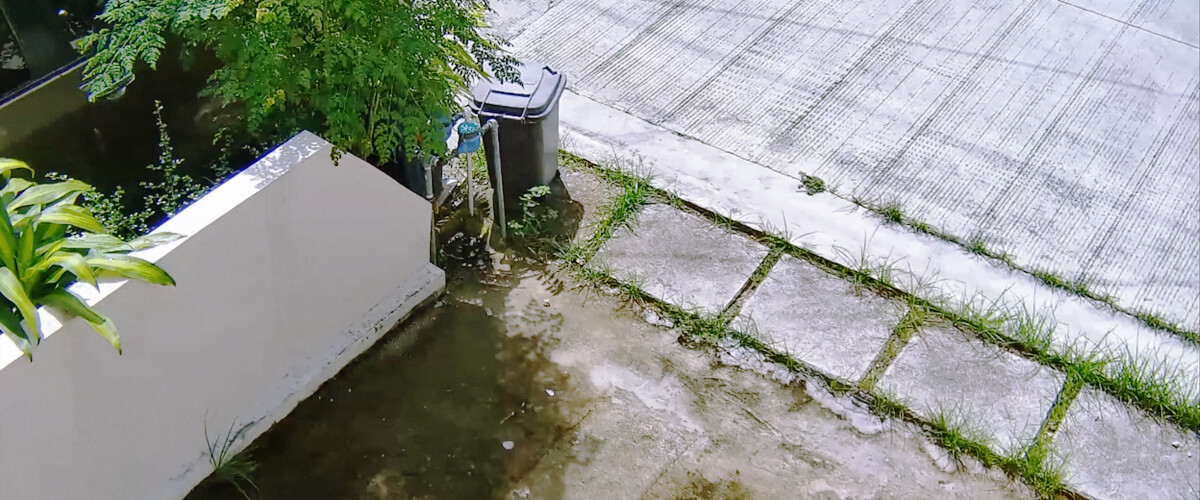 This model has Wi-Fi, and it works great, but sometimes the camera loses the signal and goes back to the default setting. To reconnect the camera, I had to go through the setup procedure all over again. And if you have a lot of individual settings (like me), it can be really annoying.
In general terms, the BU-E580 by HXVIEW is a good camera with room for improvement. It is a good choice for those looking for advanced zoom capabilities and high-quality video resolution.
Key specs
Video capture resolution: 2560×1920, 15fps.
Pan: 355°.
Tilt, up/down: 45°/45°.
Zoom, optical/digital: 30x/-.
Connectivity: PoE, Wi-Fi (2.4G), DC IN.
Pros
30x optical zoom along with 5MP resolution results in sharp image.
Auto humanoid detection and tracking.
Great customization for sensitivity and alerts.
Cons
Mail alerts are sometimes glitchy.
Sometimes Wi-Fi disappears, and settings reset.
FAQ
What are the benefits of using an auto tracking security camera?
In a nutshell, auto tracking security cameras are essential for increasing security and constant surveillance of your property. As these devices continuously monitor a specific area, they automatically detect and track any motion within their field of view. The camera will notify you of any suspicious activity if properly set up. Also, you will have valuable evidence in the event of a break-in or other security incident. Additionally, the camera that tracks movement will allow you to check what is happening with your property when you're away.
What types of objects can an auto tracking security camera track?
The objects the cam can detect and track rely on its specific capabilities and configured settings. Generally, the camera will detect a human, animal, or vehicle.
Why are security cameras so low quality?
The technology used in security cameras is not the same as in high-end phone cams or professional cameras. Using a phone or photo camera, you aim to capture the moment or object for entertainment or personal objectives. That's why these devices are optimized specifically for the maximum high image or video quality. The goal of the security camera is to monitor the space and record activities that occur within the view range. So the overall picture quality of such cameras will be lower. Although there are devices with sufficiently high resolution, you should understand at once that the price of such a model will be high, and you will be faced with the question of storing huge amounts of data. More
reasons for low-quality footage in security cameras
are explained here.
What are some common issues or challenges that may arise when using an auto tracking security camera, and how can they be addressed?
Here are some of the issues you may encounter when you opt for an auto tracking security camera:
Fault alerts: Such objects as leaves, bugs, spiders, etc., may trigger an alert notifying you about an activity that doesn't pose any danger. To fix this issue, configure the sensitivity level in the camera or the tracking area.
Limited field of view: Not all cameras can see as far as you want them to. To avoid this problem, consider using a set of cameras or PTZ cams with motion detection and tracking capabilities.
Fixed bandwidth: As auto tracking PTZ security cameras can generate a big volume of video materials, this can affect the network bandwidth and storage resources. To solve this issue, consider H.265 video coding or other technology to decrease the video size.
Restricted power capabilities: Some cameras require a lot of power to operate, which can be an issue in remote areas outdoors. To handle this problem, take a look at cameras with Power over Ethernet (PoE) capabilities or external power sources like a battery or solar panel.